Best Rap video of 2015
SOCIAL SQUATS Category added
We will be posting social squats gathered from social media with identifier #SLAVSQUAT – Please do not hesitate to share your squats!
Clarity of being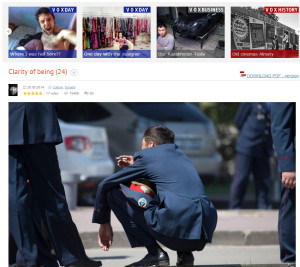 Doctors do not recommend to get involved in such a pose. They say that it is harmful for diseases of the joints and generally dangerous to health, as blood circulation. Website same fans squatting insists that correctly completed squatting "improves overall health, cleanses the soul and cultivate a healthy lifestyle."
Source: http://www.voxpopuli.kz/post/1991-chetkost-bytiya
Meme: Slavic squat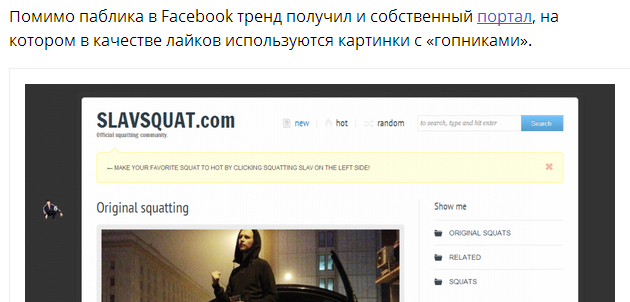 In Finland gaining popularity stormy meme called Slaavikyykky («Slavic squat"). Facebook and Twitter users share photos on which they sit on their haunches, imitating Russian "Gopnik."
Source: http://tjournal.ru/paper/slaavikyykky
GOPNIK CONQUER EUROPE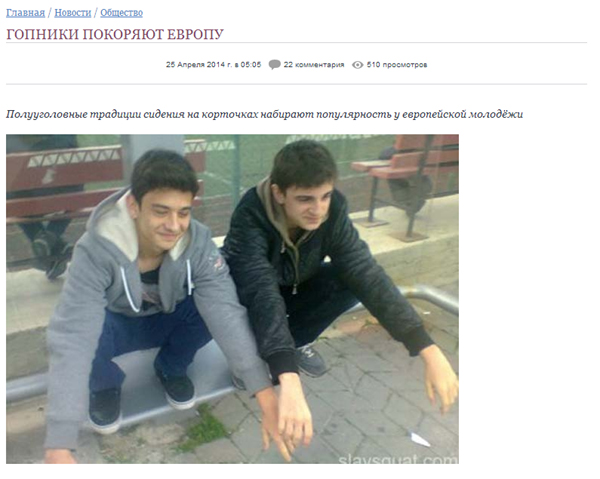 Some experts say that the movement "evrogopnikov" has replaced planking losing popularity. This absurd fascination pictures of themselves in a horizontal position in the most unexpected places. Hooked "Slavic squatting" Europeans are also trying to show the wonders of acrobatics, balancing in the most awkward positions.
Source: http://gazetarb.ru/news/section-society/detail-211435/
Russian Gopnik become icons of style in Europe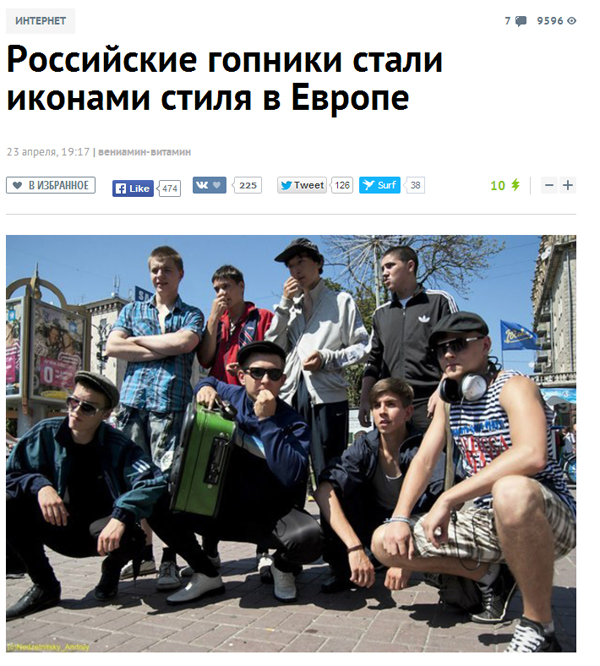 In Finland, a new fashionable trend spreads, called "Slavic squatting." Domestic element gop-culture – "Cortana" – becomes incredibly popular here.
Source: http://www.ridus.ru/news/158958
The story behind the new Finnish fashion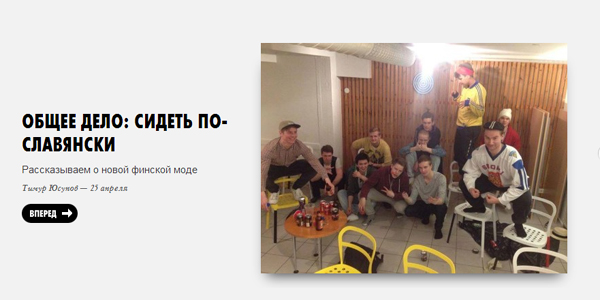 Sitting on the courts of manners favorite guys with working-class suburbs transformed into exported abroad value.
And adopt this habit is not some Gopnik over the hill, but it is a common boys and girls from Finland, sitting in Facebook, and now on his haunches.
Source: http://royalcheese.ru/pics/3294-obschee-delo-sidet-po-slavyanski.html
Eastern European Men School:
Watch out for this Blockbuster!
If you live in Moscow, your morning commute can now include a brief fitness session.
To promote the upcoming 2014 Sochi Winter Olympics, subway stations in Moscow have added these impressive new machines which allow passengers to do 30 squats for a train ticket.
Benchmark squat attire below: